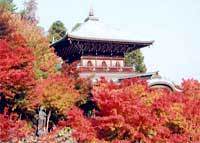 For some reason, we say MOMIJI-GARI(go to see the colorful autumn leaves) which means Momiji hunting when it translates literally. Of course you don't need to have something to shoot with you when you go to see Momiji. That never happens to deer in
Now is at the best time to go to see the colored maples in Hiroshima.
Momiji Festival is now on since 20th(Sat.) of November until 28th(Sun.)
Place: Miyajima Daishoin
Access:25min. by JR Sanyo Line& 10min. by ferry.
So Wanna hunt Momiji??